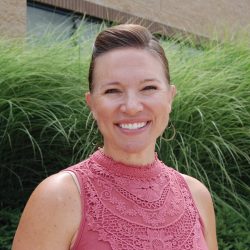 Middle School Technology Teacher
Teaching Experience:
I got my B.A. in Secondary Ed/English from Dordt College in 2006 and put it to good use teaching English for 
12 years at Central Valley Christian School in Visalia, California. Additionally, I spent time as a chapel coordinator, assistant soccer coach, and general enthusiast of the high school experience.
Personal Life:
I was born & raised in Hudsonville, Michigan but enjoyed my time in the California sunshine (hopefully I remember how to function in snow!). I loves shoes, traveling, dark chocolate, reading, and fabulous teacher bags. I adore my Cali native husband/5th grade teaching counterpart, Mr. V (he teaches at Allendale Christian); we have a spirited, brown-eyed, almost-five-year-old daughter named Kamryn and a spunky, blue-eyed, two year old named Sadie.
Fun Facts:
I collect keychains. I'm left handed. Oh…and my right pinky toe is basically good for nothing since a doorframe rendered it useless in a severe stubbing accident in 1999.