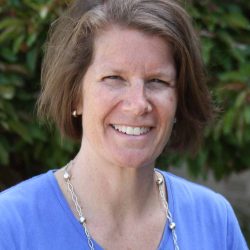 Education Background
Bachelor's degree and elementary teacher certification – Calvin College (1989)
Master's degree in educational leadership and administrative certification – Eastern Michigan University  (1994)
Teaching Experience
4th grade teacher at Redeemer Baptist Elementary School in Los Angeles, CA  (1989-1992)
Elementary School Principal at Highlands Ranch Christian School (Denver Christian Schools) in Highlands Ranch, CO  (1994-1997)
Curriculum Director at Dutton Christian School (2007-present)
Personal Life
Married to Hugh
Three children who have or still do attend DCS
Member of Discovery CRC
Why I became a Christian school teacher/curriculum director
For deep and true learning to occur, you need to know your students.  This means all aspects of them.  I chose to become a Christian school teacher because I did not want to separate my students' learning from their identity in Christ.  I believe Christian education is the best choice for educating the whole child so incredible learning can happen!
An example of how I help teachers integrate faith into their classroom
Fun Fact 
I have four sisters, and we all are or have been teachers in our careers.