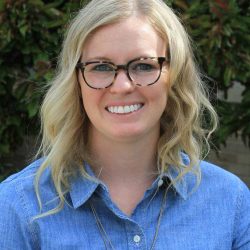 Educational Background:
I attended Cutlerville Christian Elementary School (now Legacy Christian) and South Christian High School. I graduated in 2015 from Calvin College with a Bachelor's degree in Elementary Education and minors in Mathematics, Integrated Science and Social Work.
Teaching Experience:
The fall of 2015, I student taught 3rd grade at Dutton Christian School. January 2016, I began as a 1st grade Para Professional at Jamestown Elementary School. I was hired at DCS in 2016. I am so blessed to be a part of the DCS family!
Personal Life:
My husband Hayden and I have been married since 2018. We have a daughter named Eleanor. I love to spend my free time with my family and friends. I also enjoy running, reading, and anything that involves the outdoors! I attend First Byron Christian Reformed Church.
Why I became a Christian school teacher:
I have always loved school and learning new things! It is exciting for me to have the opportunity to share my love for learning with my students. I have a passion for Christian education that stems from my experience attending Christian schools all my life. It is a privilege to be able to share openly about my relationship with Christ with my students, as well as walk alongside them as they grow in their own personal faith.
An example of how I integrate faith into my classroom:
One of my favorite subjects to teach is science. I love sharing my passion for the outdoors and God's amazing creation with my students. One unit we teach in 1st grade is the butterfly life cycle. During this unit we have caterpillars in our classroom and we get to watch the process of how a butterfly comes to be! This process is a perfect example of God's intricacy in creation. Our Creator is amazing! I love exploring God's amazing creation with my students throughout the whole year.
Fun Fact:
Fun things to know about me: I got married the summer of 2018 and my DCS first graders came to the ceremony