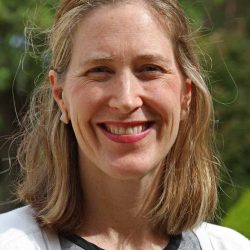 Education Background:
BA in Education from Calvin College
MI Professional Teaching Certificate Western Michigan University
Teaching Experience
Middle school Science/Language Arts–Eagle Crest Charter Academy

Middle School Bible/Science–Kalamazoo Christian Middle School

Middle School Bible/Science-Ada Christian School

Academically Talented Teacher K-8–Byron Center Christian and Dutton Christian Schools

2019 started teaching 6th Grade Science Dutton Christian School
Personal Life
Married to Randy

Three Children–Sylvia, Claire and Willem

Members at Seymour CRC in Grand Rapids
Why I became a Christian School Teacher
Christian education has been a large part of my family's story for many generations. My Oma and Opa immigrated to the US in 1968 with the main purpose of giving their six children access to an education at a Christian school. For this reason I was the recipient of my own education, attending Christian schools through K through college. As a college junior,I finally landed on a major in education through the prodding of several influential people in my life. Since 2005 I have had the great privilege of working alongside Christian educators, parents and students in a variety of Christian schools in the west Michigan area. Every year I count it a great blessing to be part of this community and to have the opportunity to teach students from a Biblical worldview.
Faith and Learning Integration
God is sovereign over all of creation. A few years ago when my daughter broke her collarbone I learned about how the body heals itself when a bone is compromised. I was surprised to find out that when a bone breaks, the body rushes millions of new bone cells called osteocytes to the area of the break. The bone is filled in, but is also adds extra bone, so that a knob is formed over the weak area.  As expected, this process happened to my daughter's afflicted area and as a result she had a large visible bump on her collarbone for months. As I thought about this incredible natural process of the body, I was lead to share this story alongside this verse from Corinthians 12:27, "Now you are the body of Christ, and each part of you is part of it." Like the bone cells that are rushed to fix the broken area, we are called to rush to people in our own path of life. They may be hurt, weak or suffering or maybe they just need a friend. I am convicted that through the process of surrounding and supporting and praying and encouraging, we are able to bring renewal in our community. It is my deep hope that all my students would grow towards and cultivate a life long relationship with Jesus Christ, using their gifts to heal the broken and to spread Christ's love to those around them.
Fun Facts
I love to read and listen to podcasts. My favorite genre is non-fiction, and I especially appreciate a good memoir.

My family and I enjoying making homemade ice cream. Our favorite flavor is made in June of each year: home grown rhubarb mixed with Michigan strawberries.