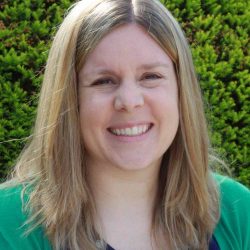 Education Background
Sylvan Christian School
Grand Rapids Christian High School
Trinity Christian College (Elementary Education Major, Church and Ministry Leadership Minor)
Cornerstone University (Masters in Educational Technology)
Teaching Experience
Taught 4th grade for three years at Summit Christian School in Fort Myers, Florida
Taught 2nd grade at Dutton Christian School for 1 year
Taught 4th grade at Dutton Christian School since 2011
Personal Life
In my free time, I love baking, crafts, playing games with family and friends, and watching sunsets on Lake Michigan. I also enjoying spending time with my young son and husband taking walks and exploring God's creation. I am a member at Discovery Church, where my husband is the director of youth and outreach.
Why I became a Christian school teacher
There are several reasons why I teach in a Christian school.  First, I have attended Christian schools all my life.  I am very grateful for my education and the spiritual growth that was fostered by my teachers.  My goal is to share what I have learned to prepare the next generation to be active members in God's kingdom as they grow spiritually and academically.  Second, I believe the spiritual life of a student is more important than academics.  Of course a student must receive a quality education and succeed in school.  However, they need to be introduced or reacquainted with their Savior Jesus Christ. I want God's glory to pour out from my classroom.  The students will be challenged to have a personal relationship with Jesus and share His love with others.  Third, I hold a reformed Biblical worldview.  I believe God is sovereign over all areas.  It is difficult for me to imagine learning without Christ fused into subject areas and experiences.
An example of how I integrate faith into my classroom
I believe that God is sovereign over all areas of life, including education.  It is important to integrate our Christian faith into all subjects and activities.  Teaching from a reformed perspective doesn't include adding a Bible class and praying.  It involves a conscientious effort to see God in all subject areas.  For example, instead of just teaching the facts about animals and their habitats, I want to challenge my students into a deeper discussion about how God created each animal.  Each animal is created with adaptations to survive in its environment.  The Word of God is a powerful tool in education.  I use it daily in my teaching lessons to provide behavioral guidance when a student is misbehaving and make it the foundation of all learning.  When I read a biography about Thomas Edison with my fourth graders we discussed priorities.  We looked at what God wants as our number one priority and how we should manage success as Christians. I also provide opportunities to show Christ's love to others in the classroom, school, community, and world.  God is an amazing creator and as I teach my students academically, I strive to help them grow in their faith in Jesus Christ.
Fun Fact 
I have traveled to 6 different countries on 4 continents.  I love traveling and sharing my experiences with my students.