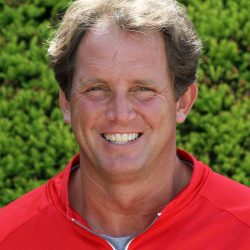 Education Background
Bachelor of Arts Degree from Northwestern College in Orange City, Iowa (1995)
Elementary Education Major
Endorsements in Coaching and Reading
Master's of Education Degree from Grand Valley State University in Allendale, Michigan (2010)
Focus on Elementary Education
Currently hold valid Professional Teaching Certificates in Iowa and Michigan
Teaching Experience
1995 to 1996 – Holland Christian Schools – Holland, Michigan
Worked in the Inclusive Education Department in the mornings at Holland Christian High School
Work at Rose Park Christian School in the afternoons, teaching 5th grade Math and 3rd Grade Math and Science.
1996 to 2005 – Redlands Christian School – Redlands, California- Taught 4th Grade
Middle School Boys' Basketball Coach for 9 years
2005 to Present – Dutton Christian School – Caledonia, Michigan
8th Grade Boys' Basketball Coach
8th Grade Girls' Basketball Coach
Personal Life
I am married to Jamie, who runs a home business that sells children's products.  We are members at Caledonia Christian Reformed Church in Caledonia, Michigan.  We have three children: Kayden, Bryce, and Tessa.  Away from school, I enjoy spending time with my family, sports of all kind, especially basketball, working in our yard, and enjoying our pool in the summertime.
Why I became a Christian school teacher
One of the reasons I became a Christian School teacher was because I enjoy the opportunity to show students how God is a part of their everyday lives and how He is present in each of their subject areas.  I grew up in Iowa and went to a Christian grade school and high school, and all of my teachers showed me the love of God in their teaching.  I want my students to see through my faith that God is more than just a person that tells us how to live our lives – He also wants to be a part of our daily lives and have a personal relationship with us.  That is something I continually encourage my students to develop throughout their year in 4th grade.
An example of how I integrate faith into my classroom
I love that integration of faith and learning is a core part about academics at Dutton Christian School.  The students are able to learn under the knowledge and power of God, because all learning comes from the Lord.  It's important to me that each student's faith and learning be integrated in the classroom.  Without it, learning is not the same wonderful experience for them.  One of the ways that I integrate it into my classroom is by explaining to the students how God is evident in the creation of electricity.  He gives us as humans the capability to 
understand how to create electricity, how to transport electricity, and how to use it properly in our homes and businesses.
Fun Fact 
I am a big fan of Nike and Air Jordan shoes and have over 100 pairs of them in my closet.  I am trying to pass this love of shoes onto my boys!