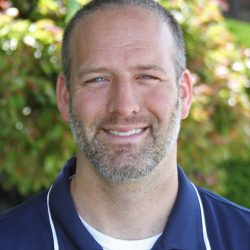 Education Background
I went to Calvin College and graduated with a Youth Recreation degree in 2004.  At 26, I returned to Calvin to get my special education certificate in 2007-2008.  Finally, in 2015, I finished continuing my education at Calvin by getting my Master's in Learning Disabilities.
Teaching Experience
I have been teaching at Dutton Christian School since 2009.  Prior to this, I was a substitute teacher in a wide variety of public and Christian schools.
Personal Life
I am a PK (pastor's kid).  I have lived in the mid-west all of my life (Wisconsin, Iowa, Illinois, Michigan).  I have been married to my beautiful wife, Lies, for 13 years.  We have two children, Will & Maaike.
Why I became a Christian school teacher
Much of my teacher training and first teaching experiences were in public school settings. My plan was to work in public schools.  God's plan was different.  Completely honest, if you would have told me in 2009 that I would be a Christian School teacher, I would have thought there was no way.  However, each year I have felt God's call and always felt that He wanted me to be here, at DCS.  So why did I become a Christian school teacher?  Simply put, because God said so.
An example of how I integrate faith into my classroom
A classroom is community. This verse covers that concept in just about all that we do.
Hebrews 10: 24 And let us consider how we may spur one another on toward love and good deeds, 25 not giving up meeting together, as some are in the habit of doing, but encouraging one another—and all the more as you see the Day approaching.
Fun Fact 
I am a huge Chicago Cubs fan.  However, when I go watch them play at Wrigley Field, they often lose.  I have not gone every year since 2000, but it has been 19 years since I have seen the Cubs win a game in Wrigley Field.  It's called the Kelder Curse.  🙂