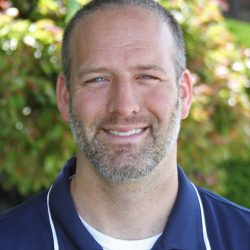 Education Background
I went to Calvin College and graduated with a Youth Recreation degree in 2004.  I returned to Calvin to get my special education certificate in 2007-2008.  Just last year, I finished continuing my education at Calvin by getting my Master's in Learning Disabilities.ies.
Teaching Experience
I am currently in my 7th year of teaching at Dutton Christian School.  Prior to this, I was a substitute teacher in a wide variety of public and Christian schools.
Personal Life
I am a PK (pastor's kid).  I have lived in the mid-west all of my life (Wisconsin, Iowa, Illinois, Michigan).  I am married to my beautiful wife, Lies.  We have two German shepherd dogs names Nikon andLw , and then my goofy dog named Coca-Cola…or just Coke for short.  Lies and I attend First CRC in Grand Rapids.
Why I became a Christian school teacher
Much of my teacher training and first teaching experiences were in public school settings. My plan was to work in public schools.  God's plan was different.  7 years ago I started teaching at Dutton Christian.  Since then, every year has been another opportunity to learn what it means to be a Christian school teacher.  From creating Christ-centered bulletin boards to attempting to implement God's word into every lesson, I quickly recognized and appreciated the challenge of what it means to truly be a Christian school teacher.
An example of how I integrate faith into my classroom
One lesson I love to teach is the science lesson on the importance of water to living things.  Plants and animals both need water to live.  Once the kids have finished this lesson, we come back together and talk about how we also need water.  The kids bring up things like wanting water if it is hot outside, or being thirsty after PE.  Then we talk about another thirst that we have.  Our lesson starts with John 4:14.  "…but whoever drinks the water I give him will never thirst. Indeed, the water I give him will become in him a spring of water welling up to eternal life."  When we believe in Jesus, we are filled with living water, and we will thirst no more!
Fun Fact 
I am a huge Chicago Cubs fan.