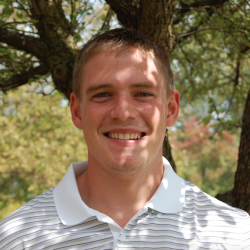 Educational Background:
Bachelor of Arts Degree from Calvin College
Teaching Experience:
 Graduated from Calvin in the Spring of 2016
Personal Life:
I grew up in Thailand as a Missionary did attending Grace International School. I moved back to the United States in 2012 to attend Calvin College.   I married my wife Allison in 2016.  Allison is a nurse at Zeeland Hospital.
Why I became a Christian school teacher:
Growing up on the mission field and having teachers that poured into my life and strengthened my faith and walk was a huge factor to the person I am today. After student teaching in a public school I knew that I wanted to be able to share more with the students and pour more into their lives.
An example of how I integrate faith into my classroom:
 I love math and how it is so orderly. I believe that we have a God of order, and that there is so much we can talk about God's faithfulness and His order.
Fun Fact:
I am a huge Ohio State fan. Growing up in Thailand has given me a whole different perspective growing up than living in the states. I have eaten a lot of weird animals and seen a lot of cool places.