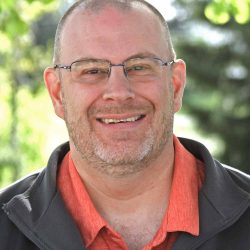 Education Background
Kelloggsville Chr. K-9
SCHS 10-12, GRJC for two years and graduated December of 1992 from Calvin
Graduated from CMU with a Middle Level Ed. Masters in 2002.
Teaching Experience
Taught 2 years of 5th grade Bible and Geography at Eastern Christian School in New Jersey, Taught in a self contained 6th grade classroom in McBain, MI for 5 years. Have taught 6th grade at DCS since 2000. I have coached boys basketball, girls basketball, and track.
I have also helped lead the Friday Morning prayer group (FM) at DCS since 2002.
Personal Life
I have been married since May of 1992 to Brenda. My oldest daughter Megan will be teaching at Ada Christian in the fall. My daughter Erin works as a Foster Care Case Aide at DA Blodgett St. Johns, and my son David, is an apprentice at Legacy Precision Molds. I have been teaching since 1993 and began at Dutton in August of 2000.
We are members at Hillside Community Church, and live in Cutlerville. I like to run, kayak with my wife, read, collect baseball cards, and go to the movies.
Why I became a Christian school teacher
I decided while on a trip to DC as senior in HS that I wanted to be a teacher and make my subjects come alive like the things I was experiencing then.  Having grown up in Christian schools , I really did not know anything else.  It was always my hope to teach at the school I grew up in someday.  I never got to do that, but I got close by teaching here at DCS.  I have always appreciated the ability to share my faith journey with my students through the years.
An example of how I integrate faith into my classroom
The history that I teach is very wrapped up in the development of God's people and later in the year the growth of the early church and how it relates to Greek and Roman culture. It is exciting to show how God works throughout history even sometimes using pagan cultures like Egypt and Rome to further his plans. I love talking about the mythology of these places and then sharing the story of how Paul challenged the men in the Areopagus about the altar to an Unknown god, and how he could tell them who this really was, and what God could do for them if they set aside the other worthless gods.
My Deep Hope
It is my Deep Hope that students see themselves as characters in God's continuing story of restoration, and that they begin to discover and explore the ways they can play their role in that story today and in the future through the power of the Holy Spirit.
Fun Fact 
I have taught at or attended schools named for the four Cardinal directions 1. Eastern Christian-taught  2. West Side Christian-student taught  3. Northern Michigan Christian-taught  4. South Christian HS-attended