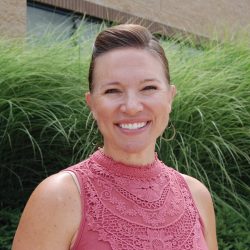 Teaching Experience:
I got my B.A. in Secondary Ed/English from Dordt College in 2006 and put it to good use teaching English for 12 years at Central Valley Christian School in Visalia, California. Additionally, I spent time as a chapel coordinator, assistant soccer coach, and general enthusiast of the high school experience.
Personal Life:
I was born & raised in Hudsonville, Michigan but enjoyed my time in the California sunshine. I loves shoes, traveling, dark chocolate, reading, and fabulous teacher bags. I adore my Cali native husband Mr. V, who teaches 5th grade at Allendale Christian; we have a spirited, brown-eyed, daughter named Kamryn, a spunky, blue-eyed, girl named Sadie, and a chubby, happy baby boy named Jaxon.
An example of how I integrate faith in my classroom:
As children of God, we are wired for connection. In tech class, we explore that connection on many levels and seek to answer some big questions throughout the year: how does our experience online reflect our worldview? What does it mean to discern online content? In what tangible ways can we use technology to further the kingdom of God?
Fun Facts:
I collect keychains. I'm left handed. Oh…and my right pinky toe is basically good for nothing since a doorframe rendered it useless in a severe stubbing accident in 1999.