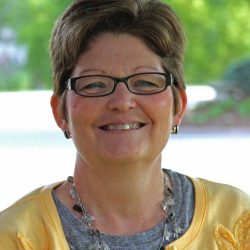 Education Background
BA degree from Dordt College.
Graduate work at Western MI
Teaching Experience
I've taught in all grades from K-8 in Christian schools in Minnesota, Iowa, Washington, and now Michigan.  I have been working at Dutton Christian's middle school resource room since 2000.  17 years as a Learning Support Teacher.
Personal Life
My husband Vince and I have four children (two of them are married). We also have 6 grandchildren.  We are members of the La Grave CRC in Grand Rapids.
Why I became a Christian school teacher
I have always wanted to work with young people and their families.  I enjoy many different aspects of education, and find my work in the resource room to be particularly rewarding.  I have always wanted to work in a Christian school because I truly believe that God needs to be a part of everything we do, including education.
An example of how I integrate faith into my classroom
Young people need to know that God is at work in all areas of our lives, even when school seems difficult, or social skills seem to be confusing.  In addition to academics, I work hard to show God's love and acceptance to all my students.
Fun Fact 
I never dreamed that my married life would take me to four communities in four different states.  While I enjoyed them all at the time, west Michigan is now my home.