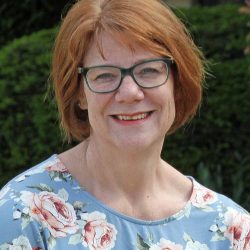 Educational Background
Bachelors degree from Calvin College
Teaching Experience
   3rd grade at Moline Christian for 6 yrs
  3-year old preschool at Moline Christian for 10 yrs
   Kindergarten extension at Byron Center Christian for 4yrs
   Kindergarten at DCS since 2009
Personal Life
My husband, Jim, and I have been married since 1986.  We have 2 daughters, Aubrey and Erika, and a son-in-law.  We enjoy living the country life in an old Middleville farmhouse. We are members of inSpirit Church in Byron Center.
Why I became a Christian school teacher
My mother says that as a young child I wanted to be a "kinnygarden" teacher. I never seemed to waver from that desire. I love children and God has given me a gift of relating to them. I've always known I wanted to use this gift in a Christian school. Having gone to Christian schools while growing up, I experienced the beauty of integrating faith and learning. It would be very difficult for me to separate my faith from my work. Working at DCS allows me to be real about my love for God and my love for his children.
An example of how I integrate faith into my classroom
"There is not a square inch in the whole domain of our human existence over which Christ, who is Sovereign over all, does not cry, Mine!' "  This quote by Abraham Kuyper guides my approach to teaching.  God's presence runs through everything that is taught from social skills to academics, routines to problem-solving. I want my students to recognize that God carefully created each of them and has a plan for their lives.  This mindset is apparent each and every day in our kindergarten classroom!
Fun Fact 
Our family has 2 dogs, 4 cats, and 8 hens and 2 roosters.