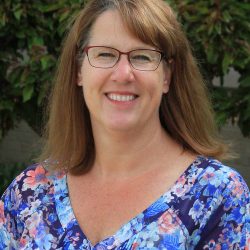 Teaching Experience
Education BackgroundBachelors degree in education from Calvin College
Several graduate classes at Western and GVSU.
Teaching Experience
1st grade at East Martin Christian school as well as 7/8 grade language arts.
I have been at DCS since 2004 in many different classrooms and roles.
An example of how I integrate faith in my classroom
I love to read books to my classes. I enjoy reading stories to them, but especially nonfiction. Our creator is so amazing and when we look at all the different animals God created and what makes each of them unique and special is something I love to point out.
Personal Life
I have been married to my husband Joel for 29 years. We have three children and a daughter in law, Lisa, Kevin and Jonathan and Abby. We enjoy camping, traveling and hanging out with family and friends. in my free time I enjoy reading, walking and biking.
Fun Fact 
I DON'T like to shop, except when I can shop for books.