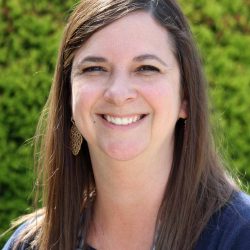 Education Background
I went to Unity Christian High School. Then, I attended Calvin College and graduated with a degree in elementary education.  I also received a triple minor in English, Math, and Early Childhood Education.  In 2010 I obtained a Master's Degree in Literacy.
Teaching Experience
Hudsonville Christian  – 2 years in first and second grade
Lansing Christian – 4 years in second grade
Ada Christian – 1 year as a long-term sub and 1 year in first grade
Dutton Christian – first grade, RTI coach and 8th grade literature
Personal Life
My husband Brad and I have been married for since 2002.  We have a son named Ethan,  a son named Nolan, and a girl named Addyson.  We currently attend Providence Christian Reformed Church.  We enjoy spending time together as a family.  One of our favorite places to go is to the beach.
Why I became a Christian school teacher
I went to a Christian school all of my life.  I feel that it is a privilege to be able to share my faith with my students and colleagues every day.  I love that fact that I can continue to grow as a Christian each and every day in this Christian school environment.  It is exciting for me to watch my own children receive a Christian education and talk about their love for Jesus at home as well.
An example of how I integrate faith into my classroom
I think it is so important to build relationships with the students that I come in contact with every day.  I want them to feel loved and respected, and see me living out my faith in my interactions with them.  I believe that every child is created in God's image, and it is my job to encourage them as they grow and learn.
Fun Fact 
While I was at Calvin College, both my dad and my sister were there too getting their education degrees.  At the age of 50, my dad decided that he wanted to become a teacher.  I graduated first, my dad graduated the next year, and my sister graduated the following year.  Now we are all teachers!