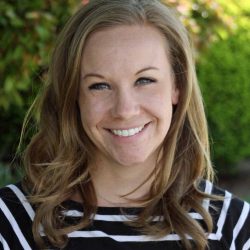 Education Background
My education began right here at Dutton Christian.  I attended DCS from preschool through 8th grade and then moved on to South Christian.  In 2007 I received my BA from Calvin College in Elementary Education with minors in Language Arts and Spanish.  I received my Masters degree in Literacy from Calvin in 2013.
Teaching Experience
If you count my childhood neighbors as students, I have been teaching since I was about 7.  My second grade teacher, Mrs. Nielsen, gave me my first teacher edition Math books and I got right to work with my "students" in my homemade classroom.
I have been teaching more formally since 2007. I taught first grade at Legacy Christian School for five years before coming to teach at Dutton Christian, where I team-taught in third grade for six years before moving to second grade. I am so blessed to spend my days here at Dutton Christian!
Personal Life
My husband Nathan and I have been blessed with 4 beautiful children, Macy, Elliott, Leah, and Jack. We enjoy spending time with our families, and we are members of Hillside Community Christian Reformed Church.
Why I became a Christian school teacher
I have always wanted to be a teacher, and I believe God used my own Christian education to prepare me for service in Christian schools.  From preschool all the way through graduate school I have seen wonderful examples of how teachers in Christian schools play an integral part in the spiritual formation of their students, helping them to see God at work in all aspects of their lives.
An example of how I integrate faith into my classroom
I try to make sure my students see my faith as real and alive by sharing how I see God working in my life and in the world around me.  In our daily devotions time I often share connections to what I'm learning about in my own personal devotions.
Fun Fact 
To the best of my knowledge, I have never eaten fish in my life.  I don't particularly like to swim with them, either.