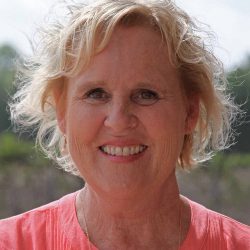 Education Background
BA Elementary Education, Calvin College, 1982.
Teaching Experience
 1982-1984, Huron Hills Baptist School, Ann Arbor, MI. prekindergarten.
Byron Center Christian School, 1984-1985, second grade.
Dutton Christian School, 1987-1989, 1990-1991, 1996-present, prekindergarten.
Personal Life
I have been blessed with a wonderful family. I have been married to my wonderful husband, Jim, for over 30 years. He is a senior manufacturing engineer with Steelcase and together we have enjoyed raising three daughters. Kate (husband Jeff DenBraber) works for DCS as the teacher of the Nature Based pre-k. Jillian is a high school teacher. Our youngest daughter, Megan, is a speech pathologist.  We have also been blessed by the addition of grandchildren to our family! Our grandson, Benham DenBraber and granddaughters, Ellison and Vivienne DenBraber. They bring all of us so much joy!
Why I became a Christian school teacher
I was one of those little girls that always dreamed of being a teacher. Fortunately for me, my parents were very supportive of my dream. When I was younger they even created a little space for me complete with a roll top desk, a chalkboard and all the paper and school supplies I needed. My younger sister was my first student and I am thankful for the hours she spent with me allowing me to imagine myself in the classroom.
As I grew older, I became aware of the reasons why God had placed this yearning in my heart at such a young age. I learned that I truly loved children. I was naturally drawn to them and they were drawn to me. Working with children and helping them learn was pure joy for me, and I knew God was calling me to serve him as a Christian school teacher. I can honestly say that I come to school each day eager to see my precious students, and eager to share another day where we give glory to God as we learn more about the amazing world he created for us to explore and enjoy.
An example of how I integrate faith into my classroom
One of the greatest joys of teaching preschoolers is that I have the privilege of seeing the world through their faithful, childlike eyes. Children joyfully accept that God loves them. Children joyfully wonder at the beauty of his creation. Children marvel at the beauty of his love for us in the wonder of Christmas and the glory of Easter. In every unit, in every lesson, in every discussion we take time to marvel at the greatness of our God. Of course, I want to prepare my children for kindergarten, but more than that, I want my students to leave my classroom closer to God than they were when they came into it. I want my students to leave my classroom knowing on a personal level that God loves them. I want them to know that Jesus died for them. I want them to know in their hearts that God created everything in this world and he is an awesome God who is also their friend.
This is accomplished in simple ways. We pray to God daily. We worship him daily through songs, memorization of his word and discussions and devotions. We dedicate each of our units to him and give him glory for his creative presence in our lives. Without fail, the spirit works among us and I hear their little voices proclaiming faith. It is an awesome privilege.
Fun Fact 
 Despite my "UBER-DUTCH" last name, I am not one ounce dutch! My mom was born in Latvia and my dad is half English half German! My crazy first name is a shortened form of my full name, Sondra, and it is a common Latvian nickname. If I had my way I would change it because SO many people mispronounce it. But, that would break my mom's heart so alas, I'm stuck with my crazy half Latvian half Dutch name!