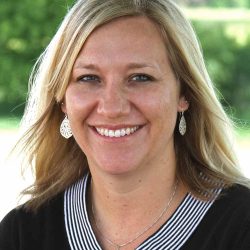 Education Background
I went to high school at Central Minnesota Christian School. Then I attended Kuyper College and through their consortium program finished my degree at Cornerstone University.  I received a Bachelor of Science in Education with a Language Arts endorsement.  I finished my Master's degree in curriculum and instruction from Grand Valley State University during the summer of 2014.
Teaching Experience
After subbing in various schools for one semester, I team-taught Kindergarten at Dutton Christian for one semester.  I have been teaching 8th grade language arts at Dutton Christian since 2004.
Personal Life
I am married to Ken who grew up in Highland, Indiana and also attended Kuyper College.  He owns his own construction business.  We have two daughters, Maya  and Madison, and a son, Preston.  I love being a part of this community both as a teacher and as a parent.
Why I became a Christian school teacher
I appreciate my Christian school upbringing immensely.  Several teachers that I had affected me in many positive ways.  I have always loved kids and teaching.  So to be able to impact students in a classroom is a very exciting calling that I feel privileged to do at Dutton Christian.
An example of how I integrate faith into my classroom
One way that I integrate faith in my classroom is by having the 8th graders write a faith reflection paper.  We discuss our spiritual walks and how God uses different aspects in our lives to mold us and grow us in our faith.   They reflect upon and write about various experiences, defining moments, people, and faith activities that have impacted their lives.
Fun Fact 
I enjoyed teaching for thirteen years at the same school with my mom, Julie Deppe, who previously taught pre-kindergarten at Noah's Ark Preschool before she retired.  My daughters, Maya and Madison, loved having Grandma as a teacher!