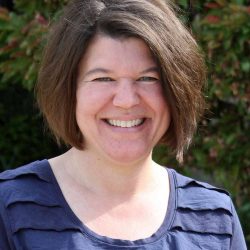 Meet Mrs. Miedema
Education Background
I attended South Olive Christian School for my elementary years.  I then went on to Holland Christian High School and Calvin College for my BA.  I later returned to Calvin for my MA.
Teaching Experience
I taught for seventeen years at Beaverdam Christian School in Hudsonville, MI.  I taught various grades and subjects ranging from kindergarten to sixth grade.  When God showed the BCS community His work for us to do there was finished, I moved on to teach at Holland Christian in their young fives program.  In the summer of 2014, I joined Dutton Christian to teach in the kindergarten program and am so excited to be a part of this community!
Personal Life
My husband Eric and I met while I was teaching at Beaverdam Christian in 1998 and were married in 2000 (easy to remember how many years we we've been married!).  We have three children.  My family attends Immanuel Christian Reformed Church in Hudsonville and are involved in many of the programs there.  During the school year we keep busy with school, homework, and athletics but in the summers we love to camp and spend time with our family and friends.
Why I became a Christian school teacher
I have so appreciated my time spent in Christian schools and believe it is so important for all involved (parents, staff, administration as well as the mission/vision of the school) to be unified in Christ.  We all serve the same Lord and are called according to His purpose.  Christian education provides an opportunity for all of us to grow in our relationship with Christ as we learn more about His world and how it works.  Christian schools have a vital role in God's kingdom and I join DCS in working hard to promote an environment where God is honored.
An example of how I integrate faith into my classroom
That's what is so awesome about God, He is in all things!  My main job is to help the children look for God.  We have "God Thoughts" throughout the day where we find Him in what we are doing or see Him in how a friend helped another friend.  We talk about respecting others because God created each one of us to be a very special person who must be loved and cherished.  Kindergarten spends a lot of time on building relationships and God is at the center of that.
Fun Fact
I love to travel!  I've been to Europe before I was married and to Niagara Falls and Disney World with my family.