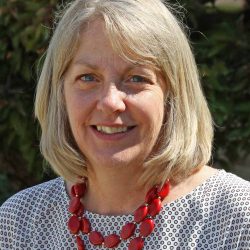 I received my BA from Calvin College with a major in Elementary Education and French.  I later returned to Calvin for my Masters Degree in Reading.
Teaching Experience
I began my teaching career teaching grade two in Woodstock, Ontario, Canada.  When I moved to the US, I taught 3rd grade at Dutton Elementary for 4 years and was the Reading Specialist there for one year.  I taught 5th grade at Dutton Christian School for 1 year and then taught 2nd grade here for more than 20 years. I am currently teach first grade.
Personal Life
I grew up in southern Ontario, Canada.  I attended Calvin College where I met my husband, Randy.  We have 4 children.    They were all born in the same house, where we still live.  I love to read and walk my dog, Charlie.
Why I became a Christian school teacher
I attended Christian day and high school and a Christian College so Christian education was all I knew.  I am grateful for the training and modeling I received in my education.  My first job was in a public school.  I spent 5 years teaching there.  While I learned a lot there, I was grateful to be able to come back to the Christian School where every part of my day and my teaching could reflect my faith.   There is no part of our lives that goes untouched by our God and I feel blessed that God has allowed me to share that with children everyday at DCS.
An example of how I integrate faith into my classroom
Prayer is one way to integrate faith into my classroom.  Several times a day, we stop as a classroom community to talk to God.  Many times, when something joyful or difficult happens we also stop and talk to God, presenting our praises and requests to him.  Several lessons in our Bible curriculum are on prayer.  My students learn that we can talk to God on all occasions, and of our need for Him to guide us, comfort us, and celebrate with us daily.
Fun Fact 
For one semester all 4 of my children were attending the same college.