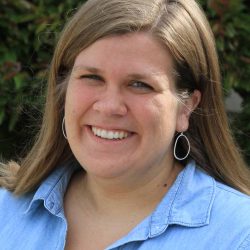 Education Background
Bachelors of Education with Elementary and Cognitive Impairment endorsements from Calvin College
Working on Masters in Literacy at GVSU
Teaching Experience
Teaching First Grade at DCS since 2008
Personal Life
I have been married to John for ten years. We have three children: Nolan, Levi, and Jessalyn.    We attend Calvary CRC where John is the youth director and I enjoy leading with him.  I love to read and do crafts.  In the summer, we enjoy going camping with our family.
Why I became a Christian school teacher
After student teaching in an inner city public school, I realized how often I wanted to be able to share my relationship with Jesus in my teaching.  I am so thankful to be able to share about my Savior with my kids in my daily teaching!
I also cherish the opportunity to teach my kids to pray, specifically, for their classmates.  While at the beginning of the year, we are still learning about each other and learning how to pray, by Spring, my first graders are suggesting praying for those who may be struggling or feeling sad.
An example of how I integrate faith into my classroom
I think my favorite part of the day is morning devotion time where students and I are able share prayer requests and talk about what is going on in our lives.  Each day we read a picture book that relates to one of 'God's Big Words' that we are discussing such as love, obedience, or truth.  We have great discussions and love to wonder together.  Each day I am blessed by the thoughts, questions, and prayers of my first graders.
A specific lesson integration would be in science when we have been talking about weather we have been enjoying looking at God's amazing creation in the clouds.  We talked about how clouds can provide us with many things including rain and shade.  What an awesome Creator we serve!
Fun Fact 
I LOVE skittles—but not the orange ones—so those are picked out and given to friends!