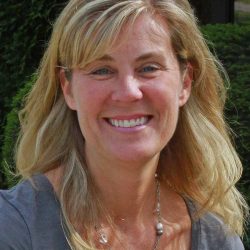 Education Background
Bachelor's degree from Calvin College
Graduate work at GVSU in early childhood
Teaching Experience 
Preschool parapro at DCS for 4 years
Early 5's parapro at DCS for 3 years
3's teacher at DCS  for three years
3 Day Kindergarten teacher at DCS for two years, 5 Day Kindergarten teacher at DCS since 2016
Personal Life
My husband and I have been married to my husband since 1995. We have been blessed with three healthy children. We love Northern Michigan and spend as much time there as we can with family and friends.
Why I became a Christian school teacher
I had the blessing of parents who made tremendous sacrifices to send five kids through the Christian schools. Now that I'm in that position myself, I understand and value that sacrifice so much more. I consider it an honor to be able to teach about our awesome God and the wonders of His world every day. I cannot imagine teaching little ones the wonder of the world around them in any way other than through the lens of our awesome Creator. As our kids have grown, I've often heard myself saying,"Isn't God amazing?" Weaving that belief into every piece of what I teach is something I can't imagine not being able to do.
An example of how I integrate faith into my classroom
Our faith is the glue that holds everything together in our classroom. Everything we do, from starting our day with prayer and devotion, our interactions with one another, our exploration of God's around us, and ending our day in prayer for our safe return home reflects our love for God and His hand in our lives.
Fun Fact 
I once won a contest for blowing the biggest bubble gum bubble.