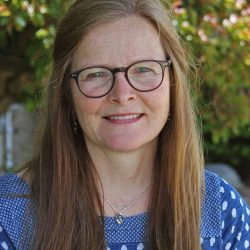 Education Background
Shubendacadie Elementary School, Nova Scotia
Hants East Rural High
Dordt College, RBC, Redeemer University – BA
Grand Valley State University – MA
Teaching Experience
Thunder Bay Christian School, 2 years Grade 1
Kpunguma, Sierra Leone, West Africa, 1 year Grade 2 &4
John Knox Christian School, 1 year Grade 3/4
Stewiacke Elementary School, 1 year Grade 4
Milford Elementary School, 1 year Grade 1
Cochester Academy, 1 year Grades 9-12 English and Economics
Dutton Christian School, 1 year Physical Education
Dutton Christian School, since 1997 – Grade 2
Personal Life
 Grew up in a family of 8 kids, immigrant parents who loved the Lord
Married to Joe
3 kids: Renae, Derek, and Dayna
Attend Pathway Ministries Church in Byron Center
Why I became a Christian school teacher
I became a Christian school teacher because I can share my faith, not hide it under a bowl. It is who I am. I like to be able to challenge the kids to walk the talk and follow God's leading.
An example of how I integrate faith into my classroom
In Math, we talk about how numbers never begin or end, just like God the Alpha and Omega. In Science we take about the sun as the source of light, and how Jesus is the source of LIFE.
In Science we also talk about how the world is so complex and well thought out by our Creator, Father.
We also talk about living life and making choices like careers and places to live. The biggest and most important choice they make is to follow Christ. We discuss the temporary versus the eternal.
Fun Facts 
I taught missionary kids in Kpanguama, Sierra Leone
My home town is Shubencacadie, Nova Scotia
I rode a tidal bore, which is the biggest tides in the world
I love Jesus!
I'm the 5th of 8 children. My husband is the 9th of 10. We have over 60 nieces and nephews.
I'm a farm girl who has baled, milked cows and entered tractor pulls with the coaxing of my 5 brothers.