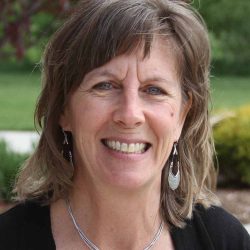 Education Background
Graduated with a Bachelor of Science degree in Secondary Mathematics Education from Michigan State University.  Graduate work at Western Michigan University, Calvin College and Spring Arbor University.
Teaching Experience
Six years of part-time teaching, substitute teaching, and parapro experience at Kelloggsville Christian and Cutlerville Christian.  I have been teaching at Dutton Christian since 2007 starting in 7th/8th grade math and moving to 6th grade math. I am also the lead teacher at the middle school.
Personal Life
I have been married to Todd since 1985. He is a Deputy Chief in the Grand Rapids Fire Department.  We are members at River Rock Church.  We have three children – Alison and her husband Dominic are both graduates of Michigan State University, Grant and his wife Hannah, and Jordan and his wife Sydney are all graduates of Calvin College.
Why I became a Christian school teacher
God called me to be a teacher while I was in college, but I went a different direction after my first high school teaching position.  Once all my children were in school full-time, I decided to become a parapro at my children's school and that job led to a teaching position in another school.  Even though I was unsure about returning to the teaching profession, I certainly felt led by God to pursue it.  It is the most rewarding job I have ever had.
An example of how I integrate faith into my classroom
In math we learn about the need to study statistics because data varies and the variation in the data makes it useful for understanding trends and making predictions. We talk about how God created each one of us in a unique way by design and that we can use the great variety of gifts that we have been given to serve others.
Fun Fact 
I started running during the summer of 2019 and ran my first half marathon in just under 2 hours in October 2019.