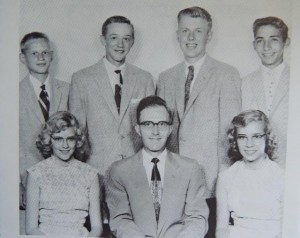 Christian education has long been a priority for the community of believers in and around Dutton. Students from the Dutton CRC began attending Cutlerville Christian School in 1938. As the number of students from the Dutton CRC began to grow, so did the need to provide reliable transportation. In time, it was becoming clear that a new school in Dutton was becoming necessary. To that end, on April 15, 1953, the Dutton Christian School Association was formed to address the immediate need for more transportation to the Cutlerville School, and to begin the process of planning for the new school in Dutton.
An unexpected gift of $30,000 from the estate of Mrs. Elsie Wierenga allowed the construction to move forward much earlier than expected. The first building was dedicated in July, 1955 in what is now the Kindergarten and first grades.
On September 7, 1955, Dutton Christian School opened its doors to 78 first through ninth grade students taught by four faculty members. Kindergarten was added in 1956.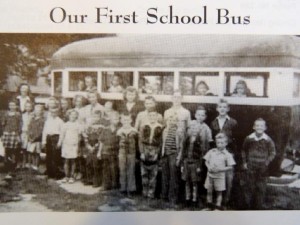 In 1963, another construction phase nearly doubled the size of the school. However, it was not until the Dutton CRC built just north of the elementary building did we have access to a gymnasium. Additions and renovations were completed at the elementary building in 1977, 1982, and 2003. The middle school was completed for classes in August 1988. The early 1990's proved to be a very challenging time in the history of Dutton Christian School. We faced declining enrollment, large debt, and increasing costs. Additionally, the 9th grade class shifted to South Christian High School in 1992. The music room addition was completed in 2002.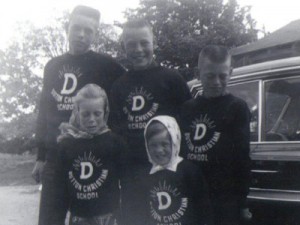 Jane Blacquiere started the preschool program as a private business in 1985 in a large room at Providence CRC. Jane met all the requirements from the State of Michigan for an early childhood program. Noah's Ark began with one class of 24 students. In 1986 Dutton Christian School rented space to Noah's Ark in one of the portables. Soni Konyndyk joined Jane by teaching two days a week while Jane taught three days a week. In 1987 Jane convinced the school board that they should own the Noah's Ark Pre-Kindergarten program, and they agreed. Jane's mom Joyce Seif, sister Kathy Burgess, Grace Lobbezoo, and Lori Oosterhaven were the aides. In 1991 Jane hired Kathy Knol (now Wells) to take over for Soni's maternity leave. Kathy Wells took over Noah's Ark when Jane left to teach second grade. Soni became the lead pre-kindergarten teacher when Kathy Wells became the kindergarten teacher in 2005. Since 2010 we have enrolled around 80-85 students in our pre-kindergarten program. We have around 100 students enrolled for the 2015-16 school year in our three's and four's programs.
During the 2009-2010 school year the $1.2 million Beyond These Walls Capital Campaign was kicked off. The mandate was to build without debt. Phase I was completed in August 2010, consisting of two early childhood classrooms, newly paved parking lots, renovated office and computer space. The portables were also removed. Funds were raised in January 2011 to build the east addition consisting of four rooms. These rooms were completed in July 2011. With this addition the previous pre-kindergarten room became a second grade classroom. The temporary walls in the Gathering Space were removed to restore our worship space. A permanent wall was installed to separate the computer lab.
The school bylaws were also revised in the 2010-2011 school year to allow up to three board members who are active members in a non-Reformed church and to allow certain classification of employees to be members of a non-Reformed church. A Faith Statement was developed that all board members and all employees are required to sign.
2013-2014 addition: construction began at the middle school during April 2014. The Build Today; Impact Tomorrow campaign had a goal to raise $1.2 million to move the office area to the front of the building, add two classrooms, add a gym storage room, replace the gym floor, and purchase adjacent land. Additionally, all the classroom windows and exterior doors with glass were replaced and the parking lot was resurfaced. The construction project was completed in August 2014. Land purchase has not yet been a reality.
The enrollment continues to grow. In the 2014-2015 school year a progressive kindergarten program was offered along with a three day and five day option. A third first grade section was added. A third second grade section was added for the 2015-2016 school year as well as a third third grade section in 2016-2017. Currently, we have three sections in grades kindergarten through fifth grade.
In 2017-2018 another building project took place. Footprints of Faith was a $3.3 million expansion of the now North Campus. Nine classrooms, several common areas and learning hubs were added on to the North Campus through this debt free campaign. Parking was expanded and plans are in place in the event that our school continues to grow and more space is needed in the future.
May God continue to bless this school so that we remain a vibrant fixture where God places us.