The History Of Dutton Christian School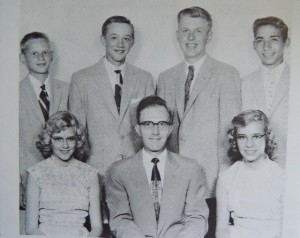 Christian education has long been a priority for the community of believers in and around Dutton. Students from the Dutton CRC began attending Cutlerville Christian School in 1938. As the number of students from the Dutton CRC began to grow, so did the need to provide reliable transportation. In time, it was becoming clear that a new school in Dutton was becoming necessary. To that end, on April 15, 1953, the Dutton Christian School Association was formed to address the immediate need for more transportation to the Cutlerville School and to begin the process of planning for the new school in Dutton.
An unexpected gift of $30,000 allowed the construction to move forward much earlier than expected. The first building was dedicated in July of 1955 in what is now the Kindergarten hallway.
On September 7, 1955, Dutton Christian School opened its doors to 78 1st grade through 9th grade students taught by four faculty members. Kindergarten was added in 1956.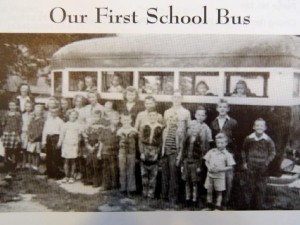 In 1963, another construction phase nearly doubled the size of the school. However, it was not until the Dutton CRC was built just north of the elementary building that we had access to a gymnasium. Additions and renovations were completed at the elementary building in 1977, 1982, and 2003, including a music room addition in 2002. The middle school (now our North Campus) was built and completed for classes in August 1988.
Jane Blacquiere started Noah's Ark PreKindergarten program as a private business in 1985 in a large room at Providence CRC. Noah's Ark began with one class of 24 students. In 1986, Dutton Christian School rented space to Noah's Ark PreKindergarten and the following year, Dutton Christian's school board decided to add Noah's Ark to the school. As the program continued to grow, a 3-year-old program was added. In the fall of 2019, a nature-based class was introduced with an outdoor classroom known as a playscape added to the South Campus. As of 2021, we had over 130 students enrolled in our PreKindergarten programs.
The early 1990's proved to be a very challenging time in the history of Dutton Christian School. We faced declining enrollment, large debt, and increasing costs. Additionally, the 9th grade class shifted to South Christian High School in 1992.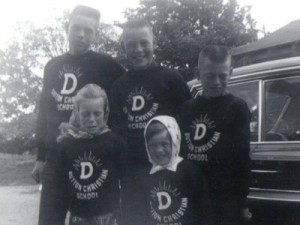 43In 2005, DCS implemented a long-range strategic plan that helps analyze our current strengths and weaknesses, study internal and external data, and identify critical issues facing our school. This process occurs every three – four years and has been extremely valuable. We have created committees and task forces to address our critical needs. Out of this process came our land acquisition committee. During the 2015-16 school year, the Schilder building and surrounding land were purchased from the American Reformed Church. This building was demolished in the summer of 2016. A house on 68th Street adjacent to the North Campus parking lot was purchased during that time.
Since 2012, DCS has experienced a period of tremendous growth which has led to several capital campaigns to provide classroom space for our students. Over the past decade, our PreKindergarten – 8th grade enrollment has grown from 486 students in 2012 to over 820 students enrolled for the 2023-24 school year. With this growth, different classes were offered such as the 3-day, progressive, and 5-day kindergarten options (2015) and we currently have three sections of each grade 1st – 8th. By God's gracious hand, we have been able to remain debt-free through each of these building projects.
2009-2010
Beyond These Walls – $1.2 Million
Two early childhood classrooms, newly paved parking lots, renovated office and computer space, removed portable classrooms. Three classrooms were built on the east side of the South Campus (completed in 2011).
2014
Build Today, Impact Tomorrow – $1.2 Million
Move the office area to the front of the building, add two classrooms, add a gym storage room, replace the gym floor, and purchase adjacent land. Additionally, all the classroom windows and exterior doors with glass were replaced and the parking lot was resurfaced (completed in 2014).
2017
Footprints of Faith – $3.3 Million
Construction began around November 1, 2017 and in August 2018 we opened nine new classrooms, three learning hubs, and expanded the parking lot.
2021
Expanding our Footprint – $5 Million
This campaign consisted of three components. The addition of 4 classrooms and three learning hubs on the north campus. This gives us the classroom space to have three sections of each grade level K-8 (anticipated completion 2021). This money also allows us to pursue buying adjacent property which is anticipated to become available and complete interior renovations to the north campus. At this time, 4.2 million has been collected toward our goal.
May God continue to bless this school so that we remain a vibrant fixture where God places us.
Sign Up For A Campus Tour
We would love to have you visit our campus. After completing the form, you will be contacted to arrange a time to meet our staff and receive a tour of our campus.
Why Dutton Christian School
Hear what some of our parents have to say about their experience here.
20 Years & Counting
"In the Fall of 1985, the first of our 3 boys started Kindergarten. We were so impressed with the staff and the commitment of the parents sending their children to DCS. As years passed, we became very involved in the school which gave us an inside look at how the school was run. We loved DCS over all the years our boys were there (1985-1999).
Now, here we are 20+ years later, so grateful and blessed to have grandchildren at DCS. And guess what, it is STILL the great school it was many years ago! Thank you administrators and staff for staying faithful & true to the mission of Dutton Christian School! To God be the glory!"
-Pat Ringnalda
They're Amazing
"Teachers and staff are amazing! We love DCS and everything they have done for our kids!"
-Rachael Brinks
Great Community
"Such a great community. Thankful my children are being educated and nurtured in their faith at this great school."
-Rebecca Helmus
Greatly Impacted My Life
"Dutton Christian School has greatly impacted my life. As a former student of DCS, I have experienced the amazing commitment to Christian Education from each of my teachers. They diligently walked alongside me to nurture not only my mind but also my spirit. In addition, as a parent of 3 children who attended preschool through 8th grade at Dutton Christian School, I have always felt that my children were valued by their teachers as a unique child of God. Furthermore, I have been blessed to be a teacher at Dutton Christian for over 11 years. As a teacher, I have experienced the loving support of the DCS community, a community deeply rooted in their faith. In many seasons of my life, Dutton Christian School has made a great difference and an eternal impact!"
-Kerri Nitz, 6th grade English and Language Arts teacher
I Have Created Great Friendships
"My experience at Dutton Christian has significantly impacted my life to live for Christ. The teachers genuinely care about students, and I have created great friendships. Biblical knowledge is incorporated through each class, and I will always remember the important life lessons that I have been taught by Dutton Christian."
-Nicole V., DCS Student
We Were Welcomed With Open Arms
"Our children transferred in from a local public school and were welcomed with open arms. The staff is awesome, the location great, and incorporating faith based curriculum was an important consideration to our family. As uncomfortable as it was for our children to come into a new school, teachers and students reached out to them and us to make the transition as comfortable, seamless, and welcoming as possible."
-Kevin James, DCS Parent
I Recommend Dutton Christian School
"I had a wonderful morning with 5th grade PE. Many adults could learn from these children who showed love, kindness, and support to each other. They showed love with one another as Jesus has taught us!"
-Cheryl Kaiser VanderMolen, DCS Parent
"Our world belongs to God and all truth comes from Him." Extended Care
Extended Care is available 7:00am – 6:00pm to support the families of DCS with quality childcare in a loving environment while providing developmentally appropriate activities for all children.
Pre-Kindergarten
Our pre-kindergarten program provides many experiences to aid the growth and development of your child, helping him/her to become a creative decision-maker, constructive problem-solver, cooperative playmate and appreciative child of God's creation.
Lower Elementary
Our Early 5's-2nd grade small class sizes allow teachers to get to know their students and give them individualized attention. The South Campus is a fun, safe place for kids to make friends, learn about God's creation, and explore the gifts God has given them.
Upper Elementary
3rd – 5th students are offered a variety of opportunities both in and out of the classroom. Our dedicated teachers take time to get to know each student individually and to help them navigate the transition from elementary to middle school.
Middle School
Middle school is a great place for students to begin to explore some independence. There are new opportunities to serve and develop their gifts both in and out of the classroom and help them grow as Christian young men and women.