Educational Support & Services
Our vision is to nurture each child as uniquely made in God's image. Educational Support was established in collaboration with the All Belong. The goal of these programs is to provide students with a curriculum designed to meet their needs and help them experience success in the classroom. Inclusive education is an important part of the educational program.
Services Available to DCS Students
All DCS students in grades 2-8 participate in ongoing MAP Growth assessments to ensure their academic progress. Targeted interventions are used where needed to aid in the improvement of specific skills. Services are available at no cost to parents for students who qualify.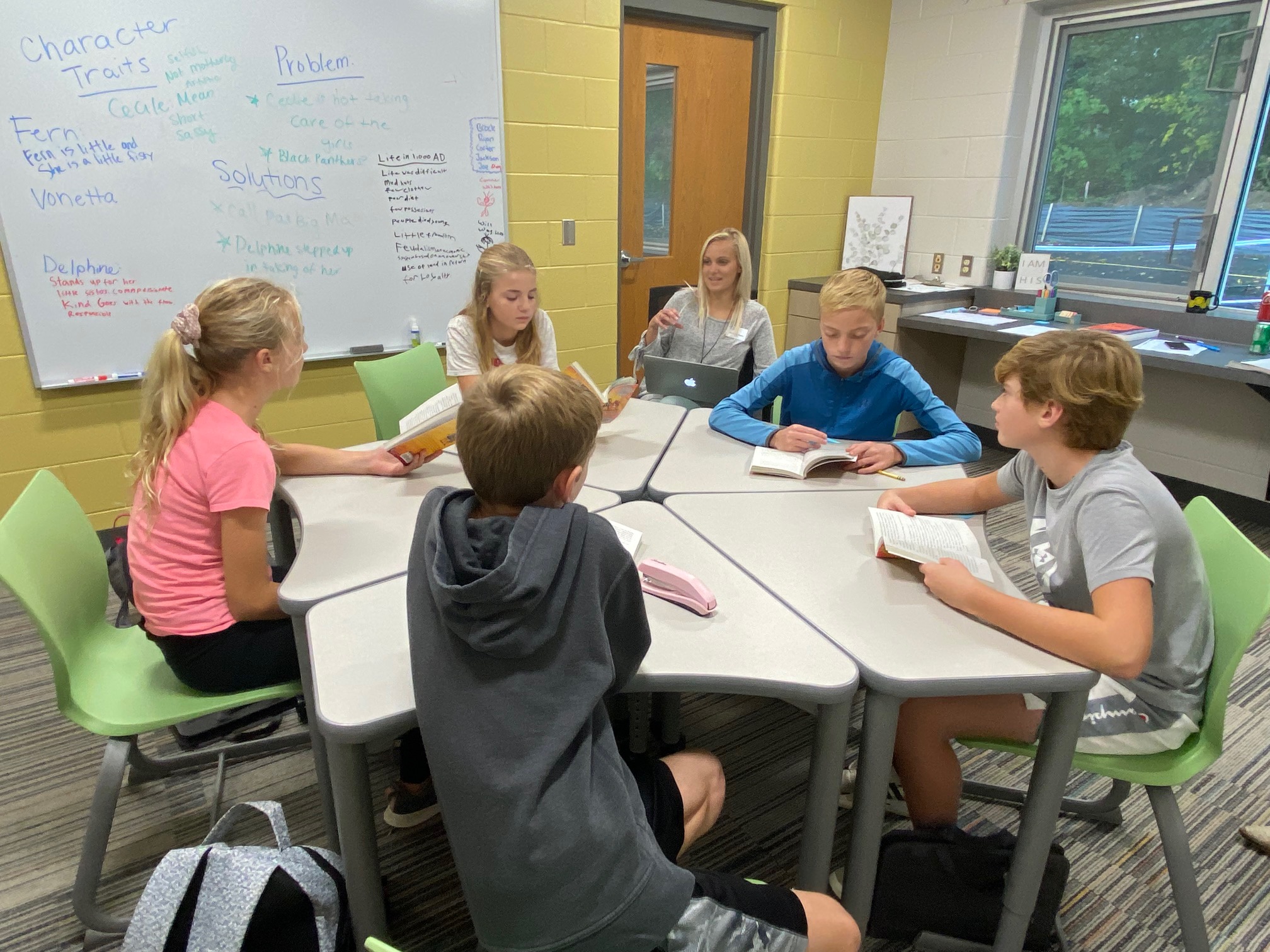 DCS Educational Support
Response to Intervention (RtI)
Learning Support Services

Consultation with LSS teacher regarding accommodations and interventions
Psychological Evaluation through All Belong (limited number available)

Academically Talented Program

Adapted curriculum for academically talented students

Reading Recovery (1st grade)
Other Support Services
Speech and Language
Occupational therapy
Physical therapy
Assistive technology
ESL support
Sign Up For A Campus Tour
We would love to have you visit our campus. After completing the form, you will be contacted to arrange a time to meet our staff and receive a tour of our campus.
Why Dutton Christian School
Hear what some of our parents have to say about their experience here.
20 Years & Counting
"In the Fall of 1985, the first of our 3 boys started Kindergarten. We were so impressed with the staff and the commitment of the parents sending their children to DCS. As years passed, we became very involved in the school which gave us an inside look at how the school was run. We loved DCS over all the years our boys were there (1985-1999).
Now, here we are 20+ years later, so grateful and blessed to have grandchildren at DCS. And guess what, it is STILL the great school it was many years ago! Thank you administrators and staff for staying faithful & true to the mission of Dutton Christian School! To God be the glory!"
-Pat Ringnalda
They're Amazing
"Teachers and staff are amazing! We love DCS and everything they have done for our kids!"
-Rachael Brinks
Great Community
"Such a great community. Thankful my children are being educated and nurtured in their faith at this great school."
-Rebecca Helmus
Greatly Impacted My Life
"Dutton Christian School has greatly impacted my life. As a former student of DCS, I have experienced the amazing commitment to Christian Education from each of my teachers. They diligently walked alongside me to nurture not only my mind but also my spirit. In addition, as a parent of 3 children who attended preschool through 8th grade at Dutton Christian School, I have always felt that my children were valued by their teachers as a unique child of God. Furthermore, I have been blessed to be a teacher at Dutton Christian for over 11 years. As a teacher, I have experienced the loving support of the DCS community, a community deeply rooted in their faith. In many seasons of my life, Dutton Christian School has made a great difference and an eternal impact!"
-Kerri Nitz, 6th grade English and Language Arts teacher
I Have Created Great Friendships
"My experience at Dutton Christian has significantly impacted my life to live for Christ. The teachers genuinely care about students, and I have created great friendships. Biblical knowledge is incorporated through each class, and I will always remember the important life lessons that I have been taught by Dutton Christian."
-Nicole V., DCS Student
We Were Welcomed With Open Arms
"Our children transferred in from a local public school and were welcomed with open arms. The staff is awesome, the location great, and incorporating faith based curriculum was an important consideration to our family. As uncomfortable as it was for our children to come into a new school, teachers and students reached out to them and us to make the transition as comfortable, seamless, and welcoming as possible."
-Kevin James, DCS Parent
I Recommend Dutton Christian School
"I had a wonderful morning with 5th grade PE. Many adults could learn from these children who showed love, kindness, and support to each other. They showed love with one another as Jesus has taught us!"
-Cheryl Kaiser VanderMolen, DCS Parent
"Each one should use whatever gift he has received to serve others, faithfully administering God's grace in its various forms." 1 Peter 4:10